Strategic Communication in Context: Theoretical Debates and Applied Research
Palavras-chave:
communication sciences, strategic communication, organizational communication, communication strategies, applied communication
Sinopse
Strategic communication is becoming more relevant in communication sciences, though it needs to deepen its reflective practices, especially considering its potential in a VUCA world — volatile, uncertain, complex and ambiguous. The capillary, holistic and result-oriented nature that portrays this scientific field has led to the imperative of expanding knowledge about the different approaches, methodologies and impacts in all kinds of organisations when strategic communication is applied. Therefore Strategic Communication in Context: Theoretical Debates and Applied Research assembles several studies and essays by renowned authors who explore the topic from different angles, thus testing the elasticity of the concept. Moreover, this group of authors represents various schools of thought and geographies, making this book particularly rich and cross-disciplinary.
Capítulos
Introduction: How Far Can We Take Strategic Communication? The Sky Is the Limit

Strategic Communication Requires Strategic Thinking

Systematic Review of Recent Literature on Strategic Communication: Analysis of the Scientific Production in Web of Science (2011–2020)

Developing Effective Health Communication Campaigns

Social Movement Activism: Analysis of Strategic Communication in Context

Crisis Communication as Course Correction: Communicative Efforts Revive Goals

Mediated Strategic Communication: Meaning Disputes and Social Practice

Social Change: Bringing Allies to the Field. An Interdisciplinary Model

Strategic Science Communication: The "Flatten the Curve" Metaphor in COVID-19 Public Risk Messaging

Strategic Communications and the Toms Case: Aligning Business Strategy With Strategic Communication

Text-Mining Approach to Political Communication on Twitter: The Analysis of the Discourse of Spain's Principal Political Parties During the European Parliament Elections in 2019

Improvisation Takes a Lot of Planification: Strategic Communication and Sociopolitical Contemporary Activism

Communication Strategy for COVID-19 in Uruguay

Strategic Communication in Cultural Organizations, the Landscape Museum

Corporate Social Responsibility and Consumer Brand Advocacy: A Reflection in a Time of Crisis

What's in a Place? The Contribution of Strategic Communication to Placemaking and Territorial Communication

Conveyed Religion: A Strategic Communication Proposal for Religious Institutions

Communication and Sport: A Call to Action
Downloads
Não há dados estatísticos.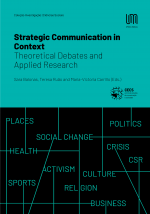 Downloads
Categorias
Direitos de Autor (c) 2021 Sara Balonas, Teresa Ruão, María-Victoria Carrillo; Ana Castillo, Ana Duarte Melo, Antonio Raúl Fernández Rincón, Atsuho Nakayama, Belén Amadeo, Damion Waymer, Emilia Smolak Lozano, Fábia Pereira Lima, Gemma Bridge, Isaura Mourão Generoso, Ivone de Lourdes Oliveira, Ivone Ferreira, Javier Trabadela-Robles, José Gabriel Andrade, Luís Eusébio, Maria João Centeno, Naíde Müller, Patricia Schroeder, Paulo Salgado, Pedro Antonio Hellín Ortuño, Peggy Simcic Brønn, Ralph Tench, Robert L. Heath, Sónia Silva, W. Timothy Coombs
Licença
Este trabalho encontra-se publicado com a Licença Internacional Creative Commons Atribuição 4.0.
Detalhes sobre o formato disponível para publicação: PDF
ISBN-13 (15)
978-989-8974-42-6
Detalhes sobre o formato disponível para publicação: Amazon.com
Detalhes sobre o formato disponível para publicação: Amazon.es