The City of the Senses, the Senses in the City
Palavras-chave:
city, experience, senses, sensorial, urban daily life
Sinopse
Urban-oriented sensory analysis has a long tradition within the social sciences. However, in communication and cultural studies research, the sensorial orientation is still incipient. This publication is part of an ongoing call by Passeio, the platform for the study of art and urban culture of the Communication and Society Research Centre, for an organicist vision of the city, underlining the need to re-signify the role of the senses in the experience of everyday contemporary urban life. This book includes theoretical and/or empirical contributions from researchers in sociology, communication and cultural studies, who explore three fundamental questions: (a) the effects of the tourist era under the COVID-19 pandemic, (b) the role of music in the production of places and socialities; and (c) the importance of ambiances in the constitution of a carnal relationship with the city.
Capítulos
About the City of the Senses, the Senses in the City: An Introduction

Mood and Ambiances: A Narration of Expressive Forms and Urban Emotions

Everyday Urban Life: Genealogy and Journal of Actors' Body in the Viral City

The City of Guinga is Biographical

Urban Drummers: The Experience of Playing, Being and Feeling in Community

The Tourist Era in the City of Porto: Enchantment, Suspension and (Un)Sustainability
Downloads
Não há dados estatísticos.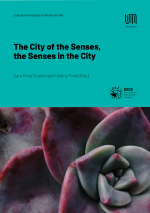 Downloads
Direitos de Autor (c) 2022 Zara Pinto-Coelho, Helena Pires; Emília Araújo, Fábio Freitas Marques, Fabio La Rocca, Jean-Martin Rabot, Márcia Silva, Pedro Andrade, Rita Ribeiro, Teresa Lima
Licença
Este trabalho encontra-se publicado com a Licença Internacional Creative Commons Atribuição 4.0.