Research and innovation 2019
Palavras-chave:
investigação, inovação, Universidade do Minho
Sinopse
Research and innovation are two pillars that come together when universities are at stake. The expansion of the frontiers of human knowledge, in all areas and disciplines, is an irrefutable commitment of higher education institutions. Together with public and private entities, they are also committed to promoting knowledge transfer to society and the economy, in the form of new ideas, new products and new processes. Universities are supposed to transform ideas into value for society.
To achieve these goals, higher education institutions have to assure their human resources are highly qualified, that they have an adequate atmosphere, that research is of high quality, and finally that adequate interactions take place.
At UMinho we have a clear strategy to be an open and permanent space for knowledge production and furtherance of nationally and internationally relevant innovation across different social and economic sectors.
For many years, UMinho has adopted the principles of open access and open science. We aim at carrying out our scientific activity and the dissemination of the corresponding results transparently and collaboratively; this implies that researchers, citizens, policymakers, state agencies, companies, and third sector organizations work in close cooperation facing research and innovation processes. We believe this is the shorter way to trigger smart and sustainable growth and qualified job creation.
At UMinho, we encourage the coupling between research and education.
Our goal is to expand research opportunities and to give our students occasions to experience vibrant research environments, ensuring that learning goes beyond the "common" routines.
Joining research and learning processes provides both undergraduate and postgraduate students with opportunities to own their learning process. We believe that research experience has a role to play in improving students' motivation for learning, in the pursuit of their interests.
Doing better science occurs when we make it both more sensitive to the needs of society and also more efficient in what concerns the allocated resources. It is also a question of accountability. This is fundamental for reinforcing society awareness about our contributions to human and social development.
Following the 2018 publication, we present here the 2019 edition of Research and Innovation, a series that draws on the outcomes of the activity of the UMinho research and innovation ecosystem. This comprehensive volume gives particular emphasis to the Research Units outcomes, namely in terms of funding, research projects, papers, and the most important achievements; the activity of the Interface Units
and Collaborative Laboratories in which UMinho participates is also reported, through their activities and institutional projects, making evident their importance for the continuous growth of our Institution,
our region, and our country.
Rui Vieira de Castro
Rector
Downloads
Não há dados estatísticos.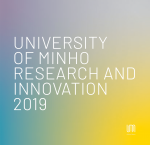 Downloads
Categorias
Direitos de Autor (c) 2021 Universidade do Minho
Licença
Este trabalho encontra-se publicado com a Licença Internacional Creative Commons Atribuição 4.0.
Detalhes sobre o formato disponível para publicação: PDF
ISBN-13 (15)
978-989-8974-31-0